My EV's since 1970
Bob Bruninga, WB4APR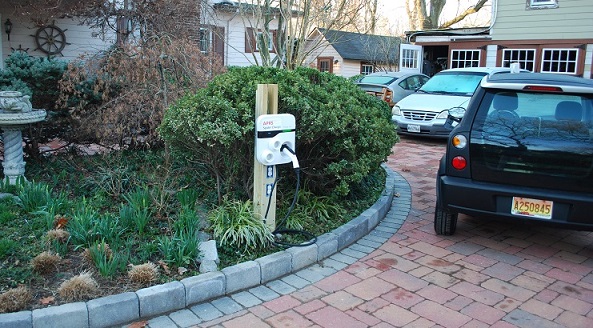 .
Before and After Charging: On the left above was my initial charger installation with more work needed on the top to install an area light. On the right is how it looks after my wife came home and read me the terms and conditions. You can also see a bit of the decals on the car promoting fossil-fuel free driving slightly visible on the right.
Hidden EVSE: The quick solution to the visibility of the EVSE was to put the EVSE on the wall in the basement and simply run the 4 wires of the J-1772 connector through the conduit to the post. I dont get to see the green and red lights on the EVSE, but I can see the ones on the EV and know if charging is going on The post also supports a down-facing LED bulb (220v) that comes on when the J-1772 powers up. Wow, all this is harder to see than I thought. The J-1772 handle is also painted black and is on the far side of the post along with a lighter weight (but still AWG 12) cord that easily disappears into her weeds. I used a PVC plastic shower drain flange to hold the handle. You can see two of them screwed to the front of the original white EVSE when I was demonstrating it with multiple J1772 cords and called it a Spider Charger.
New THINK_City EV: Oh, also you will notice the new EV, my THINK City EV restored from its BRICK condition when bought at auction (Mar-2015).
---
My long interest in Electric Vehicles! Download my latest talk(.ppt 11M) on EV's

Other related Pages: