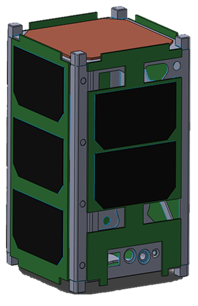 BRICSAT2 (USNAP1) - The first APRS Satelilte with Thrusters
US Naval Academy Satellite Lab,
Bob Bruninga, WB4APR
Midns teater,(16)

BRICSAT2 (USNAP1) was launched as a sister cubesat with PSAT2 on 25 June 2019 and awoke on about 25 July with good downlinks on VHF. It is another one of many APRS Networked Amateur Satellites but has a thruster experiment to see if it can maneuver to better separate from PSAT2 to provide better dual coverage for users. Its APRS callsign is USNAP1. The downlinks from all APRS satellites is found on the aprs.org/sats.html page.
PCsat-1 in orbit since 2001 semi-operational
ARISS on the ISS since 2007
Psat Operational May 2015
QIKcom-1 Attached to Host deployed from ISS in 2018 but not activated by host
QIKcom-2 Host payload, Awaiting a launch opportunity since 2016
PSAT2 Launched June 2019
BRICSAT2 Launched June 2019
ASTARS missions: Prior APRS on other spacecraft, ISS, Shuttle and MIR
The unique features of BRICSAT2 are the APRS transponder and its electric Ion proplusion thruster experiment which are modularized into standard Cubesat bus modules and integrated into a 1.5U cubesat. It was deployed together with the sister 1.5U PSAT2.
Live Telemetry Downlinks: