Home Backup/Emergency Power for a Week or More
or, Vehicle-to-Home (V2H)
Bob Bruninga, WB4APR
lastname at usna dot edu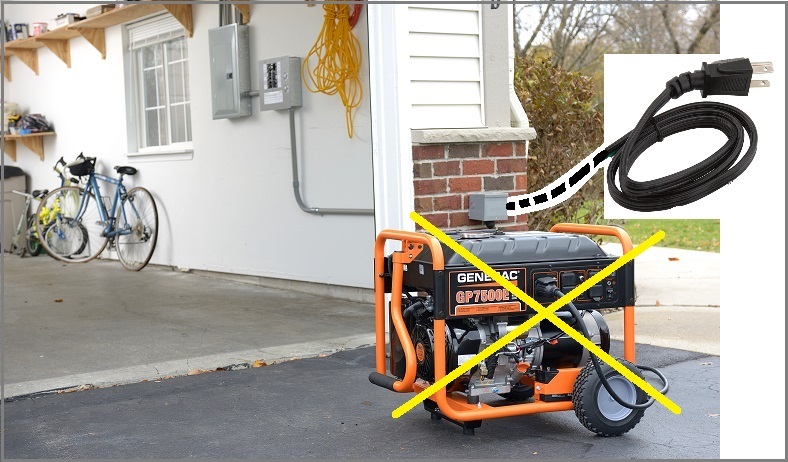 .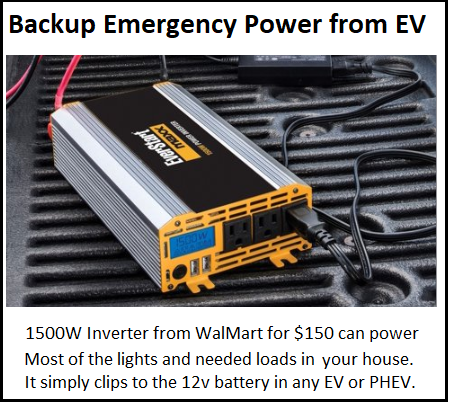 See my other EV car hacks
Download a 1page handout on EVs for clean air AND emergency power
EV Camping: Consider EV camping (Glamping?) with pollution free HVAC all night. See section at end.
This article apples to EVERY hybrid or EV no matter the make or model.
EV's and Emergency Power: An exciting advantage of EV's, Hybrids and Plugin-Hybrids is the large size of their batteries and/or generators for emergency backup power. The typical plugin EV has a battery capacity of 10 to 100 kWh. Conventional hybrids only have about 1.5 kWh, but will use their gas engine on demand to maintain the battery. This is enough to power the average American home (1 kW average load) for a day to a week if the house drops to a less wasteful usage of power. If the house is operated conservatively with only lights and the refrigerator and maybe well-pump or so, the average power can drop to around 250 W consuming only about 6 kWh per day. Similarly a hybrid or plugin-Hybrid has a generator of at least 50 kW capacity or more. Once the battery is drawn down, the engine and generator can maintain emergency power for a week or more by starting up as needed to maintain the battery (while consuming about 7 gallons of gas or so).
Self Load and Operating: To operate unattended, the car has to be left in the ON or READY mode to maintain itself. And the vehicle system adds an additional 250 to 500 W load and so the operating time estimates will be about half compared to the house kWh alone. Further, because they are so quiet and easily forgotten, most EVs/hybrids will shut down if left unattended in Park to save the battery or to protect the owner from CO poisoning if a PHEV is left forgotten in a closed garage. During a recent demo, the Volt timed out and shut down after about 2 hours (though the loads kept running only on the 12v battery and fortunatelty I was only alerted by the low-voltage alarms of the inverter. Solutions vary. In the Volt you can simply leave the car in Neutral with the brakes on or wrap a big rubber band around the shift handle to hold the button in while leaving it in park. See notes on other vehicles below.