Do not be discouraged or think it is impossible to get there from here. The slide at right show's one family's elimination of fossil fuels starting in the 2006 time frame when they realized the nearly 3000 gallons of fossil fuel they were using at ever increasing cost.
Finally in 2015, they reduced electric to near zero with final solar system
At this point by 2015, all of this family's energy consumption has been moved to electric, and all electic is derived from 100% renewable solar or wind and is free for life. This includes even the electric lawn mower, electric tools, and even an electric boat. And the cost amortized over the next 10 years is cheaper than doing nothing and continuing to pay the utility bills and continuing to pollute our future.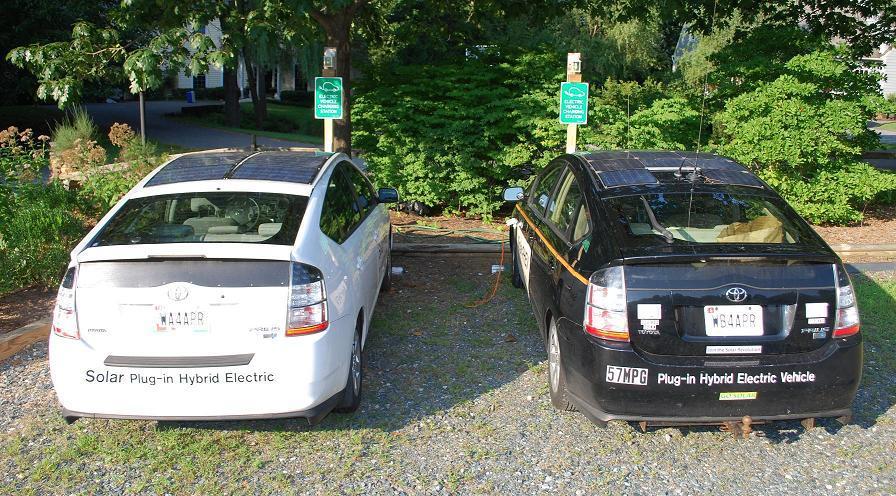 Ride Sharing is not Permanent! Remember, the only reason we need to carpool is because of the filthy emissions of our dinosaur gas buring century old transportation. This is obsolete.
EV's are Here! Electric Transportation is here to stay. Already in 2016 we are 6 years into this revolution and there are now over thirty electric cars on the market from almost every manufacturer that can fulfill almost any car need. See the list at right or get the up-to-date one from EVADC the EV Associaiton of DC, one of the oldest EV car clubs in the country. Already our Meeting house supports EV charging as shown above and today, an EV is cleaner, better, faster, cheaper to buy, cheaper to operate and cheaper to maintain than a gas car. Yet, still the public clings to decades old Misinformation about EV's such as cost. Yet, the average EV price fell below the average gasoline car cost three years ago in 2013.. now, with 6 years of EV's on the market, and three years of them coming off lease, there is even a great selection of used EV's starting as low as $6k up to about $9k for a Leaf and $15k for a Chevy Volt..
The Travisty of Not Knowing: Since the general public is not aware of this rapid transition to clean renewable Electric Vehicles, it is a travisty when someone makes another gas car purchse now in 2016 without having first at least looked at EV's. A Gas car placed on the road today, on average, will still be spewing its filthy emissions for another 18 years on average before it is finally scrapped. Since we know Climate Change is real, how long can we let this go on?
ENERGY CHOICES:We must do what we can to educate consumers to at least consider an EV for their local transportation needs. See the link.
------------------------------------------------------------
Return to Annapolis Friends Meeting
Bob Bruninga, PE
lastname@usna.edu